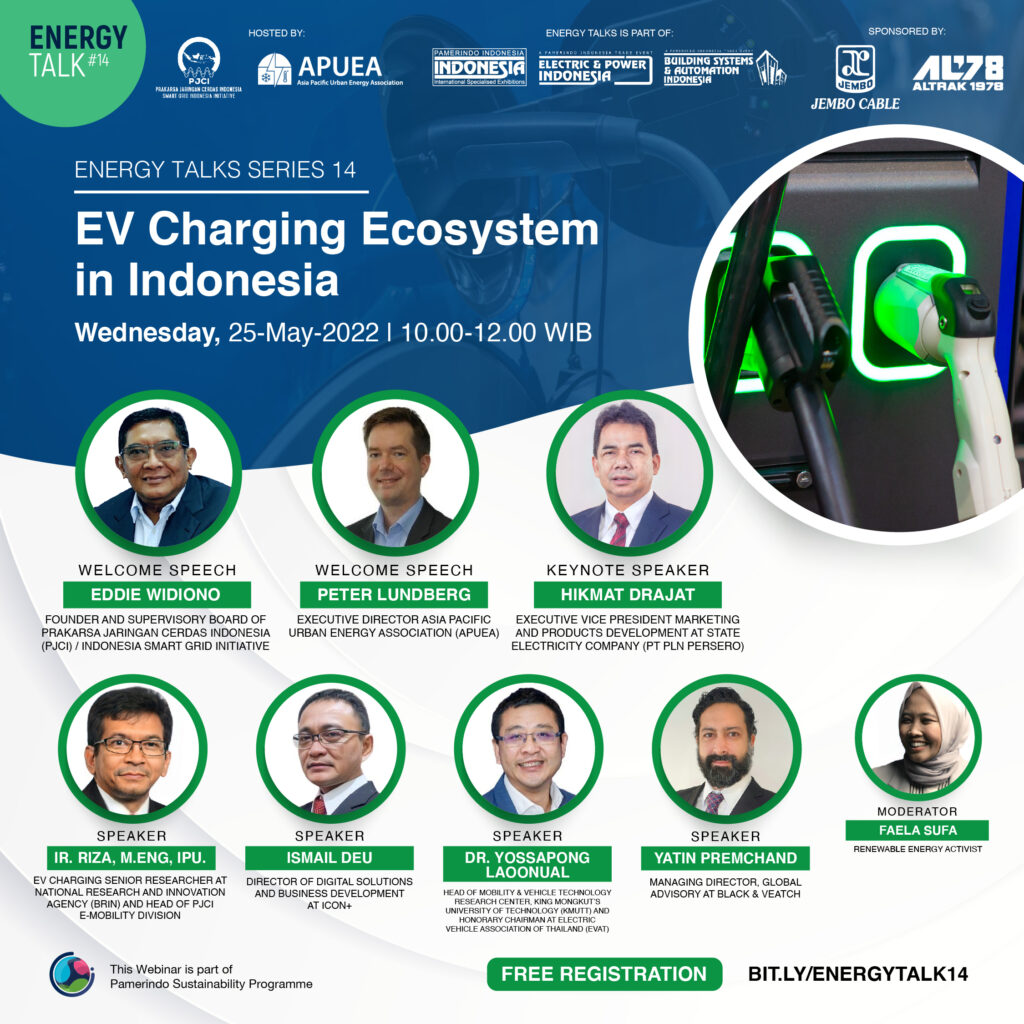 TERMS OF REFERENCE
INTRODUCTION
Title           : EV Charging Ecosystem in Indonesia
Date          : 25 Mei 2022
Time          : 10.00 – 12.00 WIB
Platform  : Zoom
Webinar Language : English
BACKGROUND
Electric vehicles are currently a global trend in society. Globally in 2019, there were 7.2 million electric cars and around 350 million two/three-wheeled electric vehicles, the majority of which were in China, the United States, and European countries. The number of these users will continue to increase along with the increasing needs in society. The use of electric vehicles can be an extraordinary solution to reducing greenhouse gas emissions produced by gas engine vehicles or other conventional vehicles.
The transition to fully electric vehicles has had multiple impacts. This impact from an economic perspective will provide benefits for the automotive industry in Indonesia, which will benefit because many components can be supplied directly from Indonesia so that the cost of electric vehicles produced by Indonesia is cheaper. For the environment, many greenhouse gas emissions can be reduced from the combustion of fuel that previously came from vehicles. The number of motorized vehicles based on data from the Traffic Corps of the Indonesian National Police (Korps Lalu Lintas Kepolisian Negara Republik Indonesia – KORLANTAS) in January 2022 reached 145 million motorized vehicles. Each vehicle will produce greenhouse gas emissions. With electric vehicles, of course, the problem of greenhouse gas emissions can be reduced significantly.
To support the acceleration of the transition to electric vehicles, Indonesia needs the support of many sectors. The government sector needs to support various policies related to electric vehicles so that there will be no problems in developing the industry in the electric vehicle sector. The industrial sector in Indonesia has begun to provide many electric vehicles so that more people will be able to buy and use electric vehicles faster. The community itself is also an important key in supporting electric vehicles by starting to use electric vehicles, especially domestic products. In addition, the research and research sector can also support the development of technology to improve the quality of electric vehicles to be better, more efficient, and safer.
All of these stakeholders will play an important role in enhancing the transition and supporting a better electric vehicle ecosystem in Indonesia. Therefore, this webinar is expected to be a place for sharing information from all stakeholders and can be a forum to be able to answer various questions from the minds of all Indonesian people so that there is a better development of each stakeholder.
SPEAKER ARRANGEMENTS
Keynote Speaker
Bob Saril, Director of Commerce and Customer Management at State Electricity Company (PT PLN Persero)
Welcome Remarks
Peter Lundberg, Executive Director, Asia Pacific Urban Energy Association
Eddie Widiono, Founder & Supervisory Board, Indonesia Smart Grid Association
Speakers:
Riza, M.Eng., Head of Electrical Technology at Agency for the Assessment and Application of Technology Indonesia
Yossapong Laoonual, Head of Mobility & Vehicle Technology Research Center, King Mongkut's University of Technology (KMUTT) and Honorary Chairman at Electric Vehicle Association of Thailand (EVAT)
Ismail Deu, Director of Digital Solutions and Business Development at ICON+
Yatin Premchand, Managing Director, Global Advisory Black & Veatch
Moderator: Faela Sufa – Renewable Energy Activist