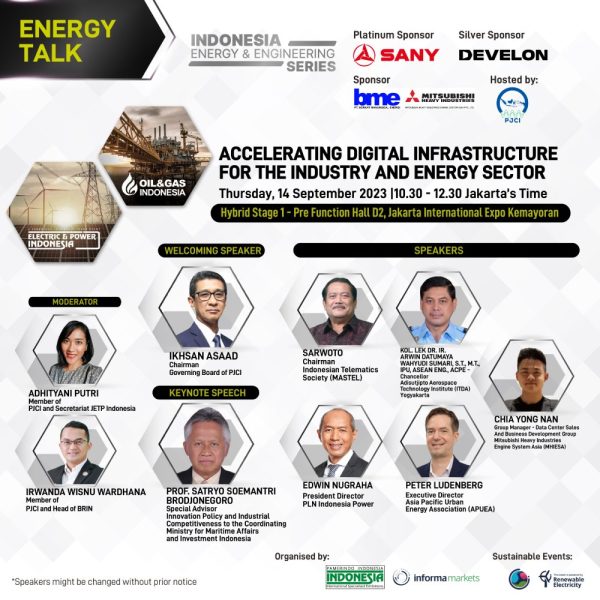 Day/Date         : Kamis, 14 September 2023
Time                : 10.30 – 12.30 WIB
Location          : Hybrid Stage 1 – Pre Function Hall D2
Link                 : https://vexpo.iee-series.com/agenda/
The document introduces the "Energy Talk Series 17: Accelerating Digital Infrastructure for the Industry and Energy Sector." It emphasizes the importance of digitalization in Indonesia's energy transition and economic growth. The talk, scheduled for September 14, 2023, aims to discuss the role of digitalization in energy security, renewable energy generation/transmission, economic impact, technology for energy efficiency, and the readiness of Indonesian human resources for digitalization. The event features prominent speakers including Prof. Satryo Soemantri Brodjonegoro, who will share insights on digitalization's progress and investment in Indonesia's electricity sector. The event serves as an open platform for discussion, aiming to raise awareness and understanding of digitalization's role in advancing renewable energy and energy efficiency.
Welcoming speaker: Mr. Ikhsan Asaad, Chairman of the Governing Board of PJCI and Director of Mega Project at PLN 2019-2021
Keynote Speaker: Prof. Satryo Soemantri Brodjonegoro – Special Advisor for Innovation Policy and Industrial Competitiveness to the Coordinating Ministry for Maritime Affairs and Investment Indonesia.
Speakers:
Sarwoto – Chairman of Indonesian Telematics Society (MASTEL) and X-President Director Telkomsel 2009-2012
Edwin Nugraha P – President Director PLN Indonesia Power
Kolonel Lek Dr. Ir. Arwin Datumaya Wahyudi Sumari, S.T., M.T., IPU, ASEAN Eng., ACPE – Chancellor of the Adisutjipto Aerospace Technology Institute (ITDA) Yogyakarta
Mr. ….. – Mitsubishi tba*
Peter Ludenberg, Chairman of the Asia Pacific Urban Energy Association (APUEA)

Moderators:
Adhityani Putri – PJCI and Secretariat JETP Indonesia
Irwanda Wisnu Wardhana – PJCI and Head of the Research Center for Cooperative, Corporation, and People's Economy at RI National Research and Innovation Agency (BRIN RI)